I would be lying if I told you that I instantly fell in love with the concept of the Disney Vacation Club. It wasn't an impulse buy for our family, nor should it have been. Considering a purchase of that magnitude was something that
we had contemplated over several trips (and years). Before I explain why I love the Disney Vacation Club (DVC), I feel it important to emphasize that you should never take another person's advice on whether the club will be a great fit for your family. That said, now I'm going to offer you my unsolicited advice on why I think the club was a perfect fit for my family.
Our journey towards the Wilderness lodge begins in the sweltering heat of Frontierland. My wife and I had rope dropped Magic Kingdom moving at a breakneck pace since 8AM. Thoroughly exhausted, the thought of boarding the buses back to the Art of Animation seemed like the worst possible option. Simultaneously we spotted the DVC kiosk and opted for a private ride home. DVC Tours (in 2017) rewarded families with a private ride, 3 fast passes, and a gift card to compensate for their time. We had always spurned offers to tour before, never wanting to sacrifice time in the parks, but on this particular day we felt, "parked out". We chose Animal Kingdom as our tour destination because we knew it would be close to our final goal of arriving back at the Art of Animation resort.
I don't want to waste our time together in this blog post by rehashing the sales process. I will only summarize the experience by saying it was extremely positive. I never felt like I was in a high pressure sales meeting. Disney charmed us and even let us walk about the door without having made any commitments whatsoever. They knew they had a great product, now it was for me to decide if it was the right product.
Our family likes to visit Walt Disney World two / three times per year. Even when we stayed at the budget friendly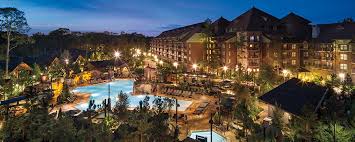 resorts, our vacation packages with tickets could get very costly. After calculating the way that our family vacationed, we decided to start our DVC membership by purchasing 100 points at Copper Creek. Our decision to purchase 100 points at Copper Creek was driven by two main factors.
For starters, 100 points (in my estimation) was a small enough contract that gave us a way out. If we didn't like our membership, we knew that there was a very good chance that it would go quickly on the resale market. Alternatively, small point increments were attractive to Disney. They could buy the contract back and turn it around again. Larger contracts seem like they are more difficult to unload in resale, since you are asking for families to pay a larger amount. Most people seek out and purchase contracts of 50, 75, 100 points to add on to their existing memberships each day. We also knew that with 100 points our family would get approximately 1 week of vacations for five years (leveraging borrowing and banking) before having to really make a decision on adding more points. If we didn't like DVC, which we doubted would be the case, we could turn around and sell back the membership to recover some of the cost. All the while having experienced some great vacations along the way.
Second and most importantly, 100 points didn't break the bank for us. This is critical. Never allow yourself to make an impulsive purchase of the magnitude. Make sure you are looking at the fine details, specifically financing the contract and maintenance dues. Our family pays about 700 per year in maintenance fees. Yeah, those are a thing. The more points you own, the higher your dues. While Disney doesn't hide maintenance fees, they certainly don't push it to the front of the sales presentation either. Once the purchase of the contract is paid, you still have dues every single year for the life of the contract, and they can fluctuate. I would venture a guess to say the dues will not be decreasing any time soon. Some locations have higher dues than others, so be aware of the cost of your annual dues compared to other resorts.
Ultimately when we figured in cost of the contract and annual dues, we were still coming under (ever so slightly) of our current spending on Disney Vacations. One critical selling point for our family was Annual Passes. That's right, no more Platinum and Platinum Plus level passes required anymore. We purchase DVC Gold member passes and saved a ton of money on the cost of admission to the parks. As out of state DVC members, we take full advantage of the DVC Gold Passes. Annual pass holder perks will be discussed in another blog entirely. Sufficed to say AP's are totally worth it! When we factored in the perks of DVC Gold Passes, DVC membership offered added benefits beyond resort amenities.
Brass tax, we stay at Deluxe level resorts for what we used to pay for budget. Are we saving money? Maybe not. But now we're staying at Deluxe resorts where we used to only be able to afford budget level stays. My budget and
my calculations may not compute for your family. However, as stated earlier, this is a decision that needs to be made carefully and based upon how YOUR family vacations. DVC ownership helped us save money in certain areas while raising cost in others. In the end, the cost evened out, but let me repeat this one point yet again, I'm staying at a Deluxe resort for what I used to pay for a budget.
Copper Creek was the perfect home for our family. We loved the decor of the Wilderness Lodge. Save for Animal Kingdom, in my opinion, it is the most beautiful lobby of all the WDW resorts. I love the spring fed stream and bridge, the fireplace, the totems. I could spend hours just relaxing in that lobby. Some of my favorite Disney memories are pin trading in that lobby or watching the girls traverse the bridge as they lived out their imaginary adventures. I loved taking in moments to sit together by the peaceful fire, as we appreciated our surroundings. Hand in hand we counted our blessing to be together at that moment in time. Those are the intangible moments that make DVC worth the cost of the initial purchase.
The resort also has two of our "must do" dining locations; Whispering Canyon Cafe and Artist Point (Storybook Dining). Lynda and I love Whispering Canyon Cafe so much that we featured it in our hidden gems podcast (Season 1, Episode 9). Meeting the Evil Queen for a private photo op should be on any Disney traveller's short list. The perfectly themed appetizers and desserts at Artist Point look almost too good to eat. Make sure you save room for the cordials immediately after at Geyser Point.
The two table service options are top notch, however there is nothing better than kicking back at Geyser Point Bar & Grill. Their snack food and drinks hits the spot and the outdoor dining is located right at the edge of Bay Lake.
The drink menu is limitless, but if you're looking for late night food options, this is where Geyser Point truly shines. We recommend the Bison burger, which is very similar to the one you can get at Whispering Canyon Cafe. The burger is a real game changer, and the best on property. Roaring fork also provides outstanding Quick Service options and is open till 10PM for late night cravings.
The rooms are bright and offer rustic touches and accents that are delightful. The room is so beautiful that one might feel guilty disturbing it. A deluxe studio is perfect for our party of four and provides a deceptive amount of storage for luggage and food deliveries to be packed away from view. Many of Copper Creeks accommodations are in close proximity to the pool and lobby, which is another added
perk. We never feel far from the action. Transportation was a breeze utilizing the buses or the dedicated boats. Water travel was never my style, per se, but we do take advantage of the 15 minute boat ride from time to time. It's not because the boats are a bad option. We prefer to get right into the action, as buses arrived quickly and often from the Magic Kingdom.
There are two distinctive pools available to DVC members at the Wilderness Lodge. The Copper Creek Springs Pool (AKA Main Pool) is our favorite. This U shaped pool features a waterslide on one end and the spring fed creek which starts in the lobby makes it way down the mountain to empty into the pool. The
delightful sounds of running water make this side of the pool a relaxing spot for adults to enjoy the running water. Kids and families usually gravitate towards the slide end of the pool which is separated by a land mass that houses the slide itself, creating an alcove for adults in the deep end. Some of our best family memories stem from pool time. The Copper Creek Springs Pool is a personal favorite of my daughter as she pretends to be a mermaid washed up along the golden pool shelves. There is nothing better than a child's imagination set free at Disney, or an adult's for that matter. I may or may not have role played King Triton once or twice along with the kids.
The Boulder Ridge Creek pool is a shallow pool located not far from Copper Creek. Situated on the Boulder Ridge side of the resort, it offers a zero depth entry and is completely shallow. The pool is Ideal for younger swimmers and experienced alike. We love the shaded areas available to families (there are 6) that serve as private cabanas (first come first serve). Boulder Ridge Creek Pool is considerably more quiet when compared with it Copper Creek counterpart. Either swimming hole is sure to delight your family and I encourage you to experience both during your stay.
Purchasing DVC has changed the way that we vacation. Prior to our DVC purchase we used to run nonstop at the parks, trying to fit in as much as possible each day. The certainty of return visits means we take more time to savor

each trip. We are emboldened to try new experiences every time. It's a different way to consume the same vacation. Of course old habits die hard, and there are still days that we pack in a ton of park attractions. Yet we now fully enjoy the slower moments together to reflect upon the entire Disney experience. DVC changes the way you interact with the park and resorts. Dare I say, you interact on a deeper and more thorough level.
Ultimately I would circle back to my original advice which is to not take my advice. Do a tour. Calculate the math. Join DVC groups on Facebook to find out the details. Decide on whether DVC is a good fit for your family. It might be a perfect fit for you as it was for me. Don't buy a membership you'll wind up regretting. Try renting points first? Four years later and I am still as happy with my decision as I was on the day I purchased my contract. I also love the fact that my daughter will inherit this contract one day and share these same memories with her family. I love that DVC is generational and it is a gift that keeps on giving. I am so happy that I was overheated in Frontierland and decided to take that private ride over to a DVC tour to cool off. It was the most expensive ride we ever took but the best investment our family ever made.